The Base on Mars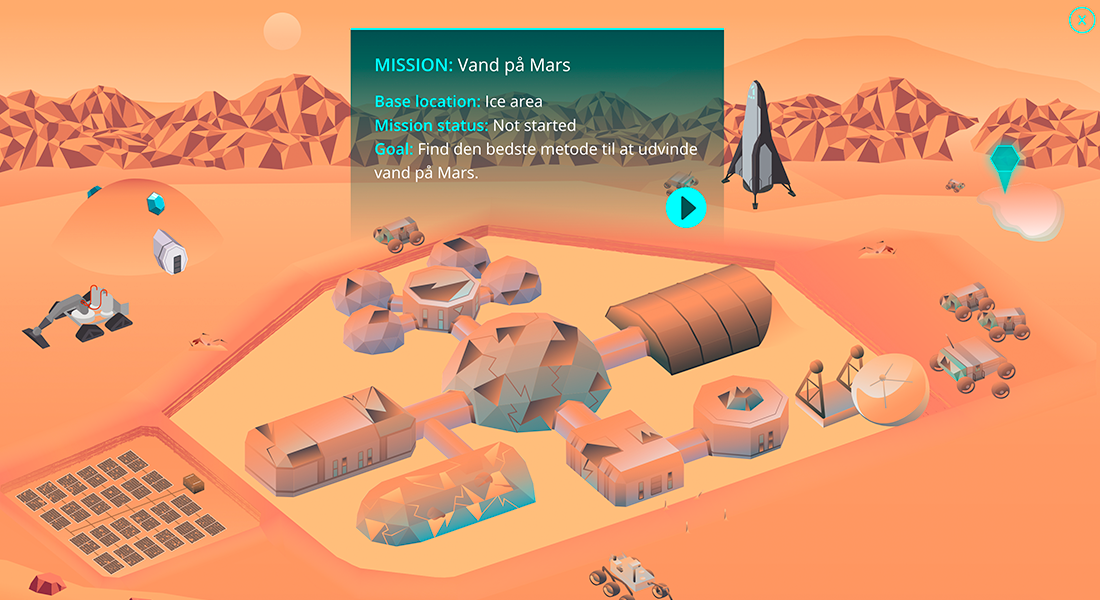 The Base on Mars is a collaboration between the Department of Science Education, Copenhagen Game Lab, The Niels Bohr Institute, and three Danish upper secondary schools:  Greve Gymnasium, Københavns Åbne Gymnasium, and Tørring Gymnasium. In December 2018, the project was granted DKK 5 million (approximately EUR 670.000) from NOVO Nordisk's eduational programme for the autumn of 2018.
The aim of the project is to create a game that teachers can use in their teaching of physics at the C-level in the Danish upper secondary level. Teaching with The Base on Mars takes the form of an interactive and partly digital story set in the future, where students take on the role of pioneers on Mars. Throughout the story, students are faced with a number of problems with physics content. It is in the context of solving these problems that students learn physics. We have chosen to call the teaching method a narratively based blended-learning environment game. Basically, the task is to create teaching material that meets the requirements for the curriculum for Physics C, while maintaining a focus on an interactive story. The end goal is that students both want to learn physics and actually learn physics. 
Read more about The Base on Mars.
People
Department of Science Education
Assistant Professor Jesper Bruun, Project leader
Research assistant Karen Alavi
Academic Research Staff Viktor Holm-Janas
External lecturer Ida Viola Kalmark Andersen
Professor Helle Mathiasen
Senior game designer Mads Brynnum
Senior UX designer Marie Oosterbaan
CEO Henning Basballe
CTO Diana Juncher
Niels Bohr Institute
Associate Professor Linda Udby
Associate Professor Kjartan Kinch
Senior Lecturer Lone Brun Jacobsen
Senior Lecturer Jesper Dalskov Jul
Lecturer Anna Gellert
Senior Lecturer Johan Jacobsen
Financial Support
Project supported by the Novo Nordisk Foundation. Grant number: NNF18OC0052291
Jesper Bruun keynote speaker at FMSERA conference
18-11-2020
On November 12th 2020, associate professor Jesper Bruun presented an opening keynote at the Finish Mathematics and Science Eduation Association's yearly seminar.
Project Period
February 1st 2019 to February 1st 2022