Teaching development courses 
The Department's main aim is training teachers for the second and third educational levels. This page shows courses for university teachers. 
Questions or requests regarding teaching at DSE may be directed to Marianne Achiam (Deputy Head of Department, Teaching) or Nadja Nordmaj (Course Secretary)
Universitetspædagogikum is a full year course (approximately 175 hours of work) through which university teachers become able to work continually to increase student learning. The course combines educational theory and research with the participants' own teaching experience in order to enable them to make informed improvements to their own and others' teaching.  
This intensive introductory course provides participants with the basic theory and practical skills to improve the quality of their own teaching. Through lesson exercises, participants will experience a variety of teaching and recieve feedback on their own teaching. 
This course aims to provide participants with the practical and theoretical basis supervising PhD students - both as principal or supplementary supervisor. The course is designed for new as well as experienced supervisors. 
Please note the course i taught in danish. Danish title: Universitetspædagogisk grundkursus for TAP-laboratorieundervisere.
A new course specifically developed for laboratory technicians who are involved in teaching and supervision of students.
This workshop will provide tools for scientific staff who are involved in the assessment of teaching portfolios for certification, appointment and promotion.
Department of Science Education offers on request different workshops about making, maintaining and assessing teaching portfolios.
The focus of the course is on the supervision of BSc and MSc students who are doing their bachelor's project or Master's thesis or who are doing other kinds of projects under supervision.
This course focuses on writers' understanding of their own process on writing. The course provides participants with a toolbox to help them take control of their writing process and feedback needs.
This is a mandatory course for those who wish be departmental supervisors for participants of Teaching and Learning in Higher Education programme (Universitetpædagogikum). 
This workshop provides instructors with the basic skills to enhance learning among fellow students in a variety of teaching situations. Please note that the course is taught in Danish. 
DUN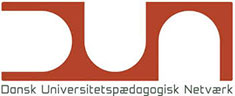 Dansk Universitetspædagogiske Netværk (DUN) er et netværk for undervisere og udviklere på universiteterne. Netværkets formål er vidensdeling og erfaringsudveksling.
DUN udgiver Dansk Universitetspædagogiske Tidsskrift (DUT).
Professor Lars Ulriksen, IND er formand for DUN.